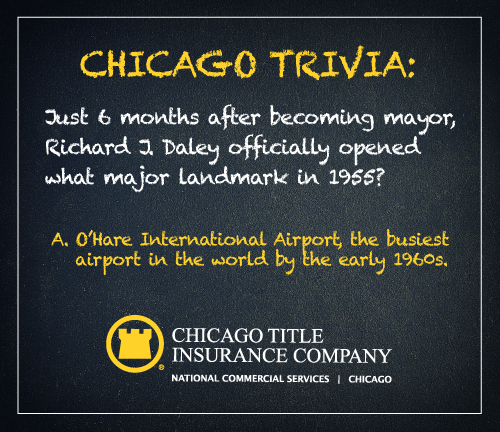 Chicago Title Ad - Bisnow Chicago Morning Brief: February 1, 2016 to February 5, 2016.
In case you missed the complete trivia question and answers, here you go!
Just 6 months after becoming mayor, Richard J. Daley officially opened what major landmark in 1955?
A. O'Hare International Airport, the busiest airport in the world by the early 1960s.
B. Millennium Park, which became the premier tourist destination.
C. The Merchandise Mart, which debuted as the largest building in the world in terms of floor space.
Trivia Source:
Chicago Magazine. (2012, October 22).  How Well Do You Know Chicago? Retrieved from http://www.chicagomag.com/Chicago-Magazine/November-2012/How-Well-Do-You-Know-Chicago/